Do you want to share your love of natural resources with others? Well, we have tools for you! The best way to teach about our wonderful natural resources is to have people experience it. Dane County Extension coordinates the Natural Resources Education Center (NREC), similar to a lending library, that provides resources, equipment, expertise and training to help you teach about natural resources. All of the resources below are available for rental. Not sure what equipment you need? Contact Michelle Probst to discuss your educational needs
Contact Michelle Probst by email or phone at 608-224-3696 at least two weeks in advance to reserve your equipment.
Pick up and equipment at the Natural Resource Education Center that is housed at the Dane County Extension Office by appointment.
Read the following safety information before using any equipment. NREC Safety Info Form
We have three educational models that can show water movement across the land (surface water) and in the ground (ground water)
Enviroscape– shows how surface water moves throughout the watershed and how runoff affects water quality. Learn more in this demonstration video
Groundwater Model–shows how water moves below ground and through our aquifers. Learn more in this demonstration video
Carry Creek is a stream model
Storm drain marking supplies–Storm drain marking helps increase awareness of the storm drain's connection to our local water resources. Educate your community about stormwater pollution by marking storm drains with "No Dumping, Drains to Lakes" (or river or stream) and distribute informative door hangers
You can reserve a Table Top Educational Display for events. It includes a portable carrying case, and three panel display board that measures 36′ x 72″. Set up with photos and text on pollinator protection on both sides of display. Topics covered include: what is a pollinator, bees and other pollinators, actions you can take to protect pollinators. Contains an interactive game on bee and wasp identification based on their characteristics. Also contains additional materials so that it can be customized to present more on habitat or other related topics. Click to see back side of display.
Brochure Display Holder (also available in Spanish) Four color 11′ 14′ free standing display on Protecting Dane County Pollinators that contains a holder for approximately 40 pollinator brochures in English and Spanish Comes in 4 designs. One free holder available per organization.
Activities for youth

Seed Card Activity Kit Contains a folded informational card (available in English and Spanish), bowls with pollinator plant seeds, small bags, and Instructions of how to construct the seed informational packet. All this is in a tote bag that you can check out for youth or adult activity or to make as a stewardship incentive.
Pollinator Fortune Teller Game (also available in Spanish) Activity is both coloring and constructing this "fortune teller" game and then playing the game while learning about pollinators.
What is it? A table top Home Composting Display can be borrowed free of charge for use at public events. See pictures below. The display comes with two retractable banners, four different compost bins, and a 'What Can Be Composted?' card game.
What will participants learn? The display educates about the environmental benefits of composting, quick steps on how to compost, and showcases different types of compost bins you can use.
These displays are available in English, Spanish, and HMoob/Hmong.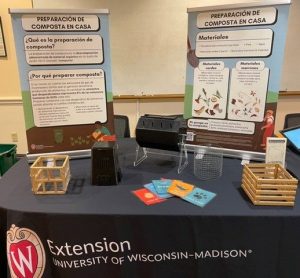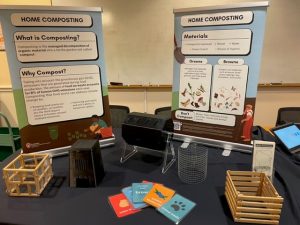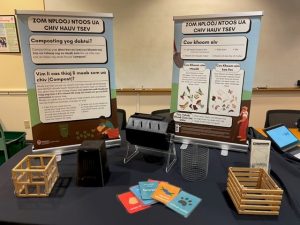 We have various equipment to help you learn more about your favorite water body. We also have hip boots and safety goggles available for use. Additional information and resources on citizen water monitoring can be found at Water Action Volunteer WAV monitoring
Water Chemical/Physical Testing Equipment
Dissolved Oxygen Kit
pH Color Comparator Kit
Nitrate Test Kit (for both drinking water and surface water)*
Water Ecology Test Kits* (these measure the following: Free acidity, Alkalinity, Carbon Dioxide, Total Hardness, Dissolved Oxygen, and pH)
Phosphate Test Kit
Water transparency (turbidity) testing tubes (measures water clarity in streams)
Secchi disk (measures water clarity in lakes and ponds)
Water sampling bottles
Bottom dredge
Water Biotic Monitoring Equipment
Aquatic nets (d-frame)
Plankton net
Collection basins (for aquatic macroinvertebrates)
Magnifying glasses
Seine net
Soil Equipment
Soil sampling probes*
Soil test kits for pH*
Soil sieves
Land Management Tools
Parsnip remover (tool for removing wild parsnip tap root)
Pruners
Loppers
Handsaws and Shovels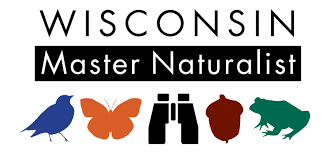 Ready to take your teaching to next level? Consider becoming a Master Naturalist!

What is Master Naturalist?
After a 40-hour training series, Master Naturalists provide and support educational opportunities, gather data as citizen scientists, and help take care of Wisconsin's land and water. Many Master Naturalists are involved with multiple organizations and activities. We help find opportunities for Master Naturalists looking for new connections with organizations across the state.
Master Naturalists come from all walks of life – college students, retirees, teachers, farmers, hunters, nature guides, professionals, young parents – and represent all levels of knowledge about the natural world. They help monitor weather, maintain trails, teach children about pollinators, and so much more.
Do you care about nature and enjoy learning about the state's natural resources? Join us!