Michelle Probst, Natural Resource Educator
Winter can be a tough situation here in Wisconsin, you either love it or hate it. Over the years, I have really come to love winter, and one thing that has helped me appreciate the winter is getting involved in winter activities. There are many organizations here in Dane County to support winter recreation activities, one of them being the Madison Nordic Ski Club (MadNorSki). MadNorSki is an organization dedicated to making cross country skiing a sport for everyone by organizing lessons, events, youth teams, and more.
As I write this it's 43 degrees outside during a Wisconsin winter, and the snow that was blanketing the ground is now disappearing before my eyes. We know that our climate is changing and the average temperature has been rising, and that the most warming is happening in the winter and at night (WICCI, 2021). I have to admit, climate anxiety has been hitting me very hard this winter knowing that this winter may be a glimpse into our future.
I am not the only one concerned about climate change and how it will affect winter activities. Tamara Bryant, Executive Director, and David Panofsky, Co-President, of the Madison Nordic Ski Club (MadNorSki), each sat down with me to discuss how climate change affects their organization and the community they've built.
"Climate change is something that looms over us", Tamara said. Forecasting under the medium emissions scenario, we could lose about a month of days below freezing temperatures which would lead to less snowpack. For groups who promote snowbased sports, like MadNorSki, this directly impacts their organization. Tamara shared that if there isn't snow in the area, membership and donations drop. "The first two weeks of January were silent. It wasn't until we got some snow that we saw an uptick in membership and donations".
While snowmaking does seem like an option, many downhill ski resorts and the CXC Center in Middleton has snowmaking capabilities, it is easier said than done. David explained, "When debating if we want to pursue snowmaking, we have to continually ask ourselves, 'how far are we willing to go? Because it's a significant investment of time and money'"
So what is the solution?
It's all about the mindset–Tamara explained that MadNorSki's first approach to adapting to climate change is changing their mindset. "Our members know and care about their connection to the world. Rather than encouraging people to drive north, and emit more emissions, to get good snow, we are encouraging people to be less picky about the snow conditions. If we have snow here in the area, great, let's ski on it! It might not be the best snow ever, but it gets you outside!" MadNorSki's Junior Team also focuses on local races to discourage people from driving all over the state.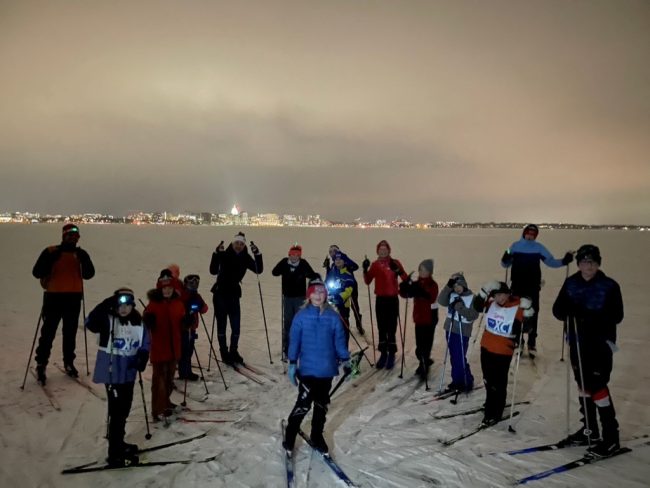 Tamara shared how there's also been a shift of mindset in the organization, "In MadNorSki, our motto is cross country skiing for everyone. I've been also saying 'Outdoor, Active, and Healthy', and we have been bringing this philosophy into every season–whether there's snow or not." They shared how MadNorSki has been promoting roller skiing, and that the Madison area is an excellent place to roller ski with all of the bike paths. MadNorSki also hosted its first ever trail race this past fall.
Being prepared and ready for snow–MadNorSki has worked with City of Madison Parks and Dane County Parks to help with trail maintenance in the fall. This involves filling in any low spots or clearing brush, so that when the snow comes, groomers are instantly ready to prep the snow for skiers!
Being prepared and ready for snow seems to be at the root of MadNorSki's success, but this isn't an easy effort. This requires funding for staff to assist in operational needs. David explained, "Our programs wouldn't be possible without an executive director. If we get snow, we need to plan an event that day or the next. There's a lot of logistics that go into planning programs, and it is a huge task for volunteers to plan something within a day or two." Tamara shared that they were able to organize a Trail Women Group Ski the day of because snow conditions were right. So as we think about the future of organizations who support snow-based recreation, available funding to support their operational needs will be very important.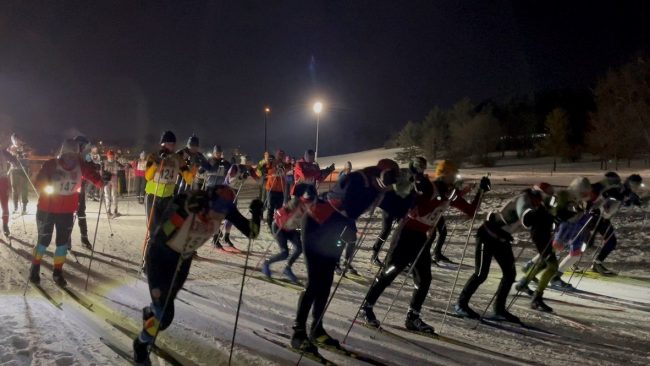 What's the future look like? What gives you hope?
Looking at climate projections, the future of many winter sports is worrisome. Although I was afraid that their response would launch me into deeper climate anxiety, I asked Tamara and David what gives them hope about the future. Tamara smiled and responded, "Our members. MadNorSki gives them an opportunity to come together and share their passion for being outdoors." David nodded and shared, "We have members who can name every single plant at Elver Park! They have so much passion, and for the future we are looking forward to continuing this passion beyond winter."
After talking with Tamara and David, I instantly felt hope for our winter sports. While I, and many others, haven't been able to ski very much in optimal conditions this year, it's ok. I've still had opportunities to get outside, connect with nature, and connect with others. The conversation with Tamara and David really showed me how impactful connecting with people on climate issues can be. MadNorSki is working hard to fulfill their mission and get everyone outside, active, and healthy. Learn more about MadNorSki and their programs here
Are you active in outdoor recreation and concerned with how climate change will impact your activity? Talk to me about it! I'd appreciate talking to you and hearing your perspective. Contact me at Michelle.Probst@wisc.edu
Want to learn more about climate change? Check out the rest of our posts and subscribe to our Climate Change Blog