A research project evaluating the food environment in the village of Marshall, Wisconsin has led to the development of the Marshall Food Access Brief describing food access resources and opportunities for the village.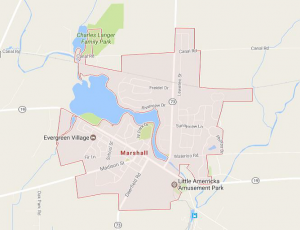 The research was performed by two Area Health Education Center interns, Ummu Drammeh and Cynthia Venters, and supervised by Carrie Edgar, Community Food Systems Educator from Dane County UW-Extension,  as well as Nick Heckman, Food Security Specialist from Public Health Madison & Dane County. The Food Access Brief was then developed by Claire Mance, FoodWIse Healthy Communities Coordinator, and Lexa Dundore, Community Food Systems Assistant with Dane County UW-Extension. A central mission of Extension's work is ensuring healthy food access for families throughout Dane County.
We appreciate the contributions of several Marshall area individuals who contributed information during the research process and reviewed the food access brief that was created as a result. Dane County UW-Extension values its long term relationships with Marshall stakeholders. We recognize that Dane County is rich because of its strong, diverse communities and community champions. We seek to develop opportunities for collaboration to carry forward these recommendations in alignment with community priorities. We hope these conclusions accurately represent Marshall and provide an opportunity to work toward achieving common goals together.
Download the brief here: Marshall Food Access Brief
For more information on this report please contact: Claire Mance, FoodWIse Healthy Communities Coordinator at mance.claire@countyofdane.com