by Sharon Lezberg, Community Development Educator
Climate conversations can be initiated in so many different ways. Some conversations are prompted by a powerful question. Other conversations emerge due to circumstances, such as a flood, fire, or other evidence of environmental change. Some of the most powerful conversations are inspired by a creative catalyst, such as a play, inspirational talk, or a piece of art.
Recently, I stumbled upon a conversation starter that is simultaneously whimsical, humorous, serious, and e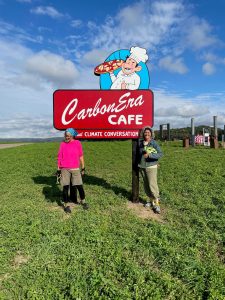 ngaging – the CarbonEra Cafe. The CarbonEra Cafe, the brainchild of artists Brenda Baker and Beth Persche, is a temporary art installation that is part of the 2022 Fermentation Festival Farm/Art Dtour (an agri/cultural self-guided tour through Wisconsin's working farmstand with roadside art, local food markets, poetry, and more – a true celebration of rural culture and agriculture hosted by the Wormfarm Institute).
Creators Brenda and Beth invite visitors to engage in conversation about climate change and sustainability using conversation starters inspired by menu items. 
A visit to the outdoor Cafe (a buildingless structure boasting windows, a chandelier, and checkerboard patterned tablecloths draped over tables made of large wooden electrical spools) brings random diners together under clear, sunny skies to enjoy fictional menu items. The special of the day 'Pasta CarbonEra' is fabulously described as "Our Signature Dish, made to order based on individu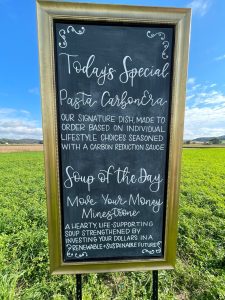 al lifestyle choices seasoned with a carbon reduction sauce." The "Lawn Alternatives Lasagna" asks diners to consider "Where have you seen examples of lawns transformed into eco-friendly plots? What steps might you take to help create a low-carbon yard, neighborhood, or community?" while the "alternative Energy Antipasto" offers "What are equitable ways we can bring alternative energy sources into our personal lives and communities while respecting and enriching each other's livelihoods?" Food for thought, indeed!
My tour through the Farm/Art Dtour, by bike/with friends, was a day filled with joy and gratitude – for the rolling, peaceful countryside, for the creativity of fellow humans, and for the opportunity to consider one of our era's most immediate, threatening and difficult challenges – climate change – through the lens of art and conversation. Let's keep on talking! 
Further opportunities to think about climate change through the lens of art: 
Fermentation Festival Farm/Art DTour (Oct. 1-10, 2022)
Arts & Literature Lab, "The Shape of the Environment" (August 23 – Nov. 4, 2022)
Arts & Literature Lab, Teen Activism and Climate Change Workshop (Oct. 20, 6:00 – 8:15 pm; for ages 13 – 19)
Wisconsin Academy of Sciences, Arts & Letters 2022 Climate Fast Forward Conference
Friction Quartet – exploring the global climate crisis through sound.
350 Wisconsin Art Collective
The Last Glacier Project
James Watrous Gallery: Kyoung Ae Cho 'Pause' – a conversation with nature.