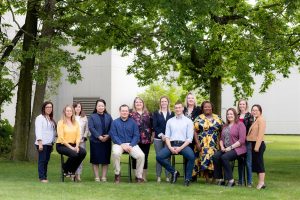 Fifteen individuals, including two from Dane County (Julia Arata Fratta, Fitchburg, and Jacob King, Sun Prairie), were recognized this month for completing the Wisconsin Local Government Leadership Academy. Their graduation took place at the Wisconsin Counties Association annual conference in the Wisconsin Dells.
The Local Government Leadership Academy is a collaborative effort between UW-Madison Division of Extension, Wisconsin Counties Association, and Leadership Wisconsin, Inc. During the 9-month program, participants focus on four primary skills of being an effective local government leader: relationship-building, communication, decision-making, and vision. Each of these four topics are grounded in the idea that we lead in community service and can accomplish more when we work together.
"LGLA has reinforced my foundation as a leader, formed a structure for alternative ways to address matters, and has allowed me to form working relationships with other government leaders from diverse backgrounds," said Michele Jacobs, Register of Deeds, Walworth County.
The graduates, who work and serve in various local government positions, gathered from across the state and gained skills they can apply immediately.
Jacob King, Communications and Diversity Strategist, City of Sun Prairie, found value in "learning about the importance and complexity of relationships between the government and community" and the group's conversations about "how to be innovative and improve [those relationships]".
This is the fourth class that has graduated from the Academy. The Local Government Leadership Academy serves:
• elected officials who understand the basics of their role and are ready to take on new leadership challenges.
• department heads, directors, and managers who are new to leadership roles, as well as those aspiring to or preparing for leadership roles.
• anyone interested in becoming a more effective leader in local government.
Registration for the 2023 Academy is now available. Learn more about the Local Government Leadership Academy at http://www.go.wisc.edu/lgla, or contact Sarah Schlosser, Organizational and Leadership Development Program Manager, UW-Madison Division of Extension at (608) 263-0817 or sarah.schlosser@wisc.edu.
2022 Local Government Leadership Academy Graduates:
Julia Arata Fratta, City Alder, City of Fitchburg
Lynn Frost, Public Health Supervisor, Portage County
Amanda Haffele, Solid Waste Director, Portage County
Michele Jacobs, Register of Deeds, Walworth County
Leigh Jentz, Chief Deputy County Clerk, Portage County
Jennifer Jones, Child Support Director, Bayfield County
Jacob King, Communications and Diversity Strategist, City of Sun Prairie
Alayne Krause, Deputy County Administrator, Sheboygan County
Vanessa Mann, Purchasing Manager, Walworth County
Laura Martinez, Member Board of Health, Racine County
Vincent Miresse, County Board Supervisor, Portage County
Deborah Reinbold, Interim President, ThriveED, Jefferson County
Treemanisha Stewart, Health Department Director and Health Officer, Sauk County
Maiyoua Thao, City Alder, City of Appleton
Mai Xiong, Executive Director, HMong American Leadership & Economic Development