Event Information
Date:
May 11th - 25th, 2021
Time:
2:00pm - 3:30pm
Cost:
Free
Contact:
María José Fuenzalida
Phone:
608-224-3708
Email: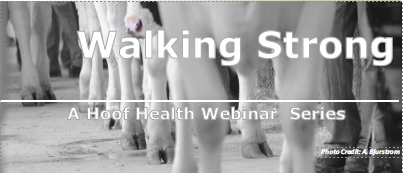 Walking strong is a three-webinar series focused for dairy workers and they are offered in Spanish only (session 1 and 3) or English only (session 2). Join us on May 11th for our first session as we learn more about infectious claw diseases in dairy cows.
Walking Strong es una serie de tres seminarios web enfocados para los trabajadores lecheros y estos seminaries se ofrecen solo en español (sesiones 1 y 3) o solo en inglés (sesión 2). Únase a nosotros el 11 de mayo para nuestra primera sesión mientras aprendemos más sobre las enfermedades infecciosas de las uñas en las vacas lecheras.
Session 1: May 11th 2:00-3:30pm/ Sesión 1: 11 de Mayo 2:00-3:30pm: Register here/Registrarse Aquí
Session 2: May 18th 2:00-3:30pm/ Sesión 2: 18 de Mayo 2:00-3:30pm: Register here/Registrarse Aquí
Session 3: May 25th 2:00-3:30pm/ Sesión 3: 25 de Mayo 2:00-3:30pm: Register here/Registrarse Aquí
Presenters:

Session 1/ Sesión 1: Prevention and control of infectious claw diseases/ Prevención y control de las enfermedades infecciosas de la pezuña
Session 2: Prevention of infectious claw diseases in robotic farms Dorte, Döpfer, DVM, PhD, UW-School of Veterinary Medicine
Session 3 /Sesión 3: Prevention and control of digital dermantitis in heifers/ Prevención y control de la dermantitis digital en novillas
Session 1/Sesión 1: Keeping yourself safe while working with cows' feet/ Como mantenerse seguro mientras trabaja con las patas de la vaca Maria Jose Fuenzalida, Dairy and Livestock educator for Dane County, UW-Madison Division of Extension
Session 2: How to manage a foot bath
Aerica Bjurstrom, Agricultural educator for Kewaunee County, UW-Madison Division of Extension
Session 3/ Sesión 3: The impact of facilities and management on heifer hoof health/ El impacto de las instalacion es y el manejo en la salud de las pezuñas de las vaquillas
Tina Kohlman, Dairy and Livestock educator for Fond du Lac County, UW-Madison Division of Extension