You are viewing information about a past event.
Event Information
Date:
February 5th, 2020
Time:
9:30am - 3:00pm
Cost:
FREE
Contact:
Chelsea Zegler
Phone:
608-224-3716
Email:
This is the first of two training sessions offered by Dane County Extension, training is free but manuals need to be purchased ahead of time, the cost is $30.00, which includes the manual and pays for the certification for five years.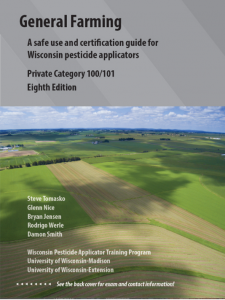 February 05, 2020—Mazomanie Town Hall
711 West Hudson Street
Mazomanie, WI 53560
Sponsor –Insight FS Cooperative, Marxville
You can purchase your manual at:
Dane County Extension Office
5201 Fen Oak Drive
Suite 138,
Madison, WI 53718
Insight FS – Marxville
9119 State Road 19
Mazomanie, WI 53560
Please let us know what session you will be attending when you pick up your manual.
Sessions start at 9:30 am, please arrive on time
Lunch served at 12:00 pm
Test will be given from 1pm-3pm, 2-hour time limit
University of Wisconsin Madison Division of Extension, U.S. Department of Agriculture and Wisconsin counties cooperating. UW Madison Division of Extension Dane County provides equal opportunities in employment and programming, including Title IX and ADA. Please make requests for reasonable accommodations  to ensure equal access to educational programs as early as possible but at least 10 days prior to the scheduled program, service or activity.
Contact Chelsea Zegler at 608-224-3716 or zegler.chelsea@countyofdane.com to request an accommodation.
Event Location
Mazomanie Township Office
711 W Hudson St
Mazomanie, WI 53560